Designing a window seat in today's age when every inch of space costs a premium, is the best thing you could do to your home. It does not only take care of the aesthetics but is also highly functional in terms of storage solutions. You could also use it to curl up and read your favourite book.
If you too are looking forward to converting a window corner into a beautiful seating area, this article is for you.
Incorporate a Window Seat in the Building Plan
If you are designing a new house, talk to your building architect about your plans of having a window seat in advance. If planned well in time, a window seat can look very attractive and can also become a great space storage trick.
When the window seat is in a bedroom, it saves you the hassle of arranging a bedroom chair too. This area can also double up as storage for shoes etc. and provide you the much-needed visual relief.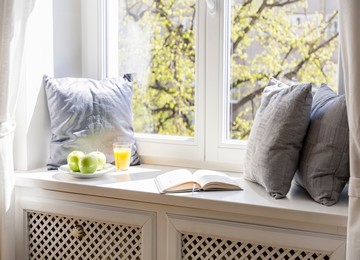 Incorporate a Window Seat into a Joinery Plan
Generally, we end up placing bookshelves on either side of the window, leaving a hollow space in the middle, making it look like an eye sore. What you can do is, fill this gap with a cozy seat. It does not cost a lot and increases the look of the space too.
When designing a window seat into a joinery plan, ensure that the new addition has the same design detailing as the rest of the room, so it merges well with the overall theme.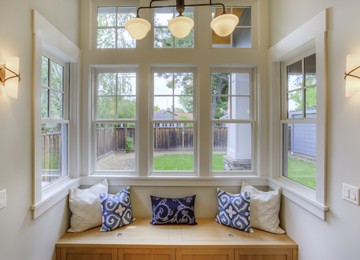 A Cozy Slumber Space
If you do not want to limit yourself to just curling up and reading a book in your window seat and would rather take a power nap here too, ensure the space is large enough. The curtains should be dark enough so they can eliminate any natural light. The place where you build this space also matters.
For instance, you would not want to lie down for a while at a stairway landing with a window seat for all the movement it may attract.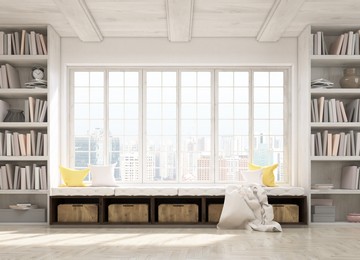 Think About the Seat
While you have a limited say about the length of the seat as it mostly depends on the size of the window, you can still think about the depth and the material to be used. A seat that is 40 cm in depth and 50 cm in height, is considered a good seat. Whether you can sleep here or just sit depends on the size of the window, so there is nothing much that you can do about it.
To avoid anything falling out of place, ensure the seat upholstery matches the upholstery in the room. One should specifically choose outdoor fabric for window seats or otherwise, the colour would fade away very soon, owing to the amount of light and UV it will end up attracting.
As you can see, be it about increasing the storage space or a cozy seating area or just to fill the gap, a window seat in a home goes a long way.